Urgently needed supplies have been despatched from Caithness to those fleeing the war in Ukraine after a "fantastic" community effort.
Items ranging from medicines and baby boxes to sleeping bags and tents have been transported south in a series of deliveries this week after being collected at a number of donation points around the county.
"It was overwhelming in such a short space of time how everyone pulled together," said Jacqueline Coghill, of Stemster House, who teamed up with her friends Caitlin Mowat and Sally Crowe to organise the local response.
They have been supported by a small army of helpers, from those who joined in with sorting and packing to drivers who took the supplies to gathering points elsewhere in the Highlands and as far away as Edinburgh in trucks and vans.
Jacqueline estimated there would have been enough donations to fill an articulated lorry.
Some of the goods will be taken to Ukraine itself, with the rest going to refugee centres in neighbouring Poland and Moldova.
Many of the items had been bought new, and in some cases personal messages were included to show solidarity with the plight of displaced Ukrainians after Russia's invasion of their country.
Donations were accepted earlier this month at Wick Laundry, where Caitlin is manager, at Stemster House, at St Fergus Church in Wick and at Highland Christian Church and the Messy Nessy play centre, both in Thurso.
Everything was brought to Stemster House to be made ready for distribution, using a large marquee that is normally a wedding venue.
"It has been a brilliant thing to be involved in, and it is amazing what a small community can do in such a short time," Jacqueline said.
"Sally did a similar collection for Syrian refugees a couple of years ago, so she was a fantastic person to have on board. She knew all the connections to get all the donations to the right people.
"It kind of snowballed but we were so lucky because we've got the marquee and we had the space to collect all the donations.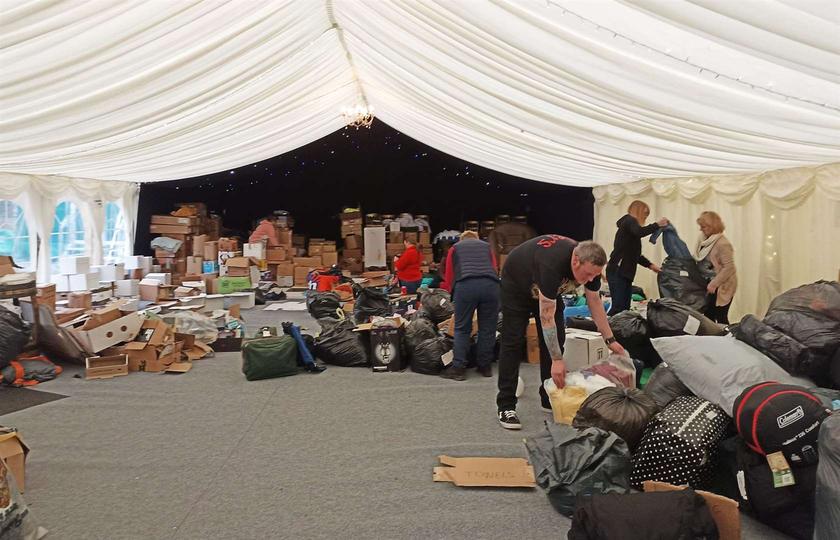 "It was good to have that sort of central hub where everyone could drop off all the stuff from all the donation points and then we spent quite a bit of time sorting it out and making sure it was all what was needed.
"What an amount of stuff we got, and it was really high-quality as well. A lot of the clothes were brand new with tags on, sleeping bags and rucksacks still in their packets. It was fantastic.
"There has been over an artic-worth of stuff delivered. It has been all systems go.
"There was a huge donation of clothing at the start but we actually had to call a cap on that because the priority items were medical supplies, general painkillers like paracetamol and ibuprofen, and Calpol for kids. Baby things were really needed – we had 14 baby boxes, six newborn car seats, a couple of prams, and huge amounts of sanitary and hygiene products.
"We had blankets and sleeping bags and I think we had about 25 tents donated. There was a real buzz during the donation sorting days with everyone putting in such an effort making sure everything was sorted and packaged up."
Jacqueline pointed out: "It was very humbling and quite emotional at times, especially when we were sorting and organising the donations and stumbled across heartfelt cards and letters to those who would receive the donations.
"You could really tell the empathy that everyone has for them. You could tell by a lot of the donations as well. You'd have your two bags for life that had obviously been put in together, and one of them has been filled with essential baby items and the next one filled with essential mum items and some chocolate and a book."
She added: "We made sure nothing was wasted. Any towels and bedding that didn't meet the standard required have been donated to the Balmore animal rescue centre. Any clothing donations that are in good condition but not as requested have been put to the Highland Hospice shop, and all the carrier bags and bags for life have been put to the local food banks.
"It has been a real community project, not only with all the fantastic volunteers who gave up their weekend to sort, pack and then load the trailers and vehicles but also all the local businesses who gave up their time, staff and resources too."
Gavin Noble, of Noble Building and Civil Engineering, took the first load of medical supplies to Inverness. George Coghill from Stemster Mains and Johnny Mackenzie of Westfield Timber Supplies used their van and trailer to take the biggest load to Edinburgh, including the 14 full baby boxes.
Sally Crowe drove a fully loaded stock box of clothing to Muir of Ord for the voluntary group The Highlands Support Refugees, while Gary Gunn of KW1CK Deliveries transported the last load to Inverness.
Asked about her motivation for getting involved, Jacqueline explained: "I've just tucked my three kids into bed and they're safe, warm, fed and relatively secure – this isn't going to be something they are going to be thinking of, hopefully, at any time in their lifetime. And you're watching mothers on the telly clutching their newborn babies and having to say goodbye to their dad... you couldn't not do anything."
Caitlin said: "We were blown away by it all. It was unreal, people's generosity.
"We also had money donations that were to go towards fuel when we were looking for a lorry. We'd like to pass that on to some of those that have done the deliveries but a lot of them aren't looking for money so I think we'll probably just make a donation to one of the Ukraine charities."
---
Do you want to respond to this article? If so, clickhereto submit your thoughts and they may be published in print.