We'd all love for our bathrooms to feel like a spa. Unfortunately, though, we don't all have the renovation budget to create it. However, there are small things you can do.
TikTok content creator The Folding Lady showcased how to fold towels as a spa would, and it's a genius hack to elevate your bathroom.
In the video, she begins by laying the towel flat on a table. Then, she grabs the top corner and folds it diagonally so that it forms a triangle over the towel and a point at the top. She then folds the towel in half through the center. Next, she flips the towel over and begins to roll it up from the bottom toward the pointed end. Once it's completely rolled, she tucks the pointed bit, and there's a beautifully rolled and folded towel ready to elevate your bathroom shelves.
@thefoldinglady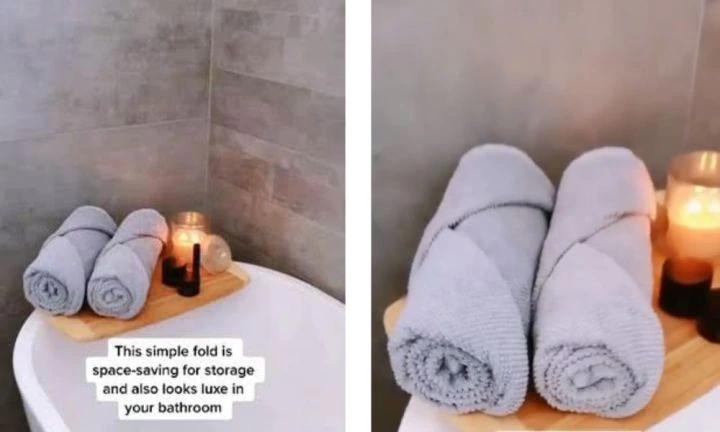 Reply to @yourmylobster252020 #fyp #hack #skills
♬ GOOD VIBES - Ellen Once Again
The rolled towels are just one of the ways you can make your bathroom more luxe without spending a ton of money. If you really want to embrace the spa at home, you can add items like a towel warmer or shower sprays and steamers to give yourself a full, pampering experience.
Keep your towels toasty.
Amazon
$143.99$159.99Save 10%
Now that you know how to fold towels like a spa, there's one more thing you can do. This hack will make your shower look as grand as a hotel's, and it's an affordable change.