Alyssa MacDonald of Avonport, N.S. loves wrapping presents so much, she once considered having a holiday business to do so for other people. Not everyone has the same love for wrapping as this university student, so she put together her top tips.
Find out what kind of household the present is going to go to, she says. For example, if they have cats, try to avoid using ribbon that could be eaten or chewed. She says she knows the consequences of that all too well and having to wait for the ribbon to appear out the other end!
Read more
LIFE HACKS: Your flooring type dictates your approach to cleaning and caring for it
LIFE HACKS: The right Christmas tree can fit into whatever space you have
When trying to wrap presents for multiple families, use different wrapping paper for each family. This is easier to sort where each wrapped presents needs to be delivered like, "Oh, the snowflake presents are for the Smiths," says MacDonald.
Some families use a different wrapping paper for each child or to distinguish between tree and stocking presents.
It doesn't have to be complicated, says MacDonald. A simple wrapping paper and bow will never disappoint.
To store bows, MacDonald says to use a small, portable tote so when you are unwrapping presents on Christmas, you can have the tote with you and put all the bows back into it. For storing wrapping paper, she puts it in a bin or bucket so she can see all the different kinds all at once.
Kiki Clogwyni, Wolfville uses tea towels and face cloths from the dollar store as an alternative to wrapping paper
"With the cost of wrapping paper these days, it is not much more expensive, and you can get them in Christmassy colours," she says.
She then uses colourful strands of pure wool yarn to tie them up as that can get tossed in the green bin, she says.
MacDonald says this is the best way to make wrapping less expensive. Keep old Christmas cards and cut the front of the card off and use it as a tag for the following year.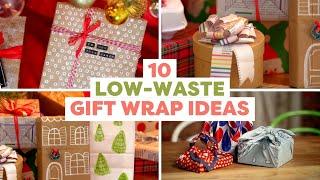 "It is cute, and it allows each present to be unique because usually no two card covers are the same," she says.
Seana Collins of Port Williams, N.S. aims to wrap all her presents using sustainable methods. She says she stopped buying wrap, tape and bows several years ago and started using creative non-waste and reusable ways instead.
1. Use brown paper or packing paper decorated with Christmas stamps.
2. Use mason jars decorated with homemade Christmas tags and rope or yarn, fabric for ribbons.
3. Take cereal boxes, or the like and fold them into a self-closing pouch. Then, she usually paints the box with craft or chalk paint.
4. Decoupage jars, bottles, boxes — any vessel can be done this way. It involves gluing on scraps of paper or fabric to the surface.
5. Use fabric exactly like wrapping paper and secure it with darning needle using a yarn and a blanket stitch. Or simply use a water-soluble glue stick available at any craft store.
6. Cut the top off milk jugs, paint them and cover with fabric or decoupage. Fill them with gifts
7. Buy terracotta pots from the dollar store and decorate them with fabric, ribbon, or chalk paint.
8. Paper lunch bags can be decorated with gold, white, red or green Christmas stamps.
"We often make our stamps out of leaves, branches, potatoes, apples," says Collins. "Also, dried orange slices with a bit of yarn also adorn our gifts."
If you are still looking for another new or creative way to wrap presents, try it the Japanese way! A group of Japanese students studying at Acadia University's English Language Centre explain the art of furoshiki. This word literally means bath cloth. Traditionally, when Japanese people went to the bath house, they would wrap their belongings in a special cloth. These days it has become a popular way of wrapping special gifts, explains Nanako Yano.
In Japan, when you wrap a present beautifully, it shows respect for the person who is receiving the gift, she says.
To wrap something in the furoshiki style, begin with a square piece of fabric. This could be a handkerchief, material, or ask for a fat quarter in the fabric store. There are lots of YouTube tutorials, but the students said to tie the item to ensure there is a handle for carrying.
This style works well for wine bottles and boxes.
To wrap a present in paper, in Japan, they will often wrap it on a diagonal rather than lining it up horizontally on the paper.
However you end up doing it, MacDonald says listening to Christmas music while wrapping presents always makes the gift look better!