Like integrated appliances? Then you'll LOVE these new integrated washing machine and washer dryers from Hotpoint which offer an increased capacity within the same standard footprint.
This means that if you have a streamlined kitchen or utility room and find that you have lots of washing to work through, this could be the answer to all your washing (and drying) woes. Yep. One of these (already) large appliances from Hotpoint are the perfect solution: a spacious 9kg capacity for washing and 6kg drying capacity is ideal for large families and the appliances have been designed to fit into standard under-counter spaces.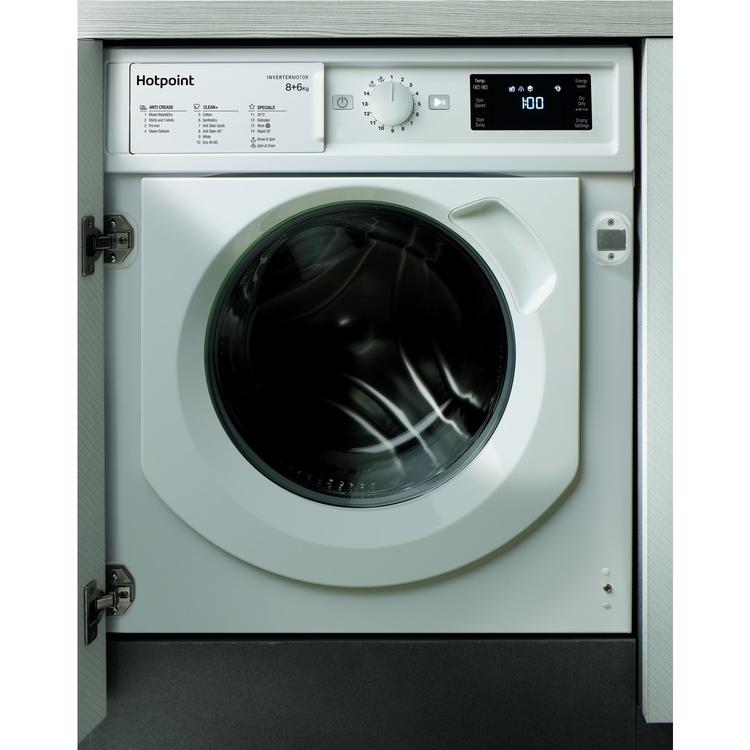 Not only will they wash larger loads, but they also boast a variety of functions for busy family life. For example, the Anti Stain 40ºC programme quickly eliminates common stains, without the need for pre-treatment. The machine innovatively controls the correct amount of water, temperature level, detergent and drum movements, so you can say goodbye to stains, with ease.
If you can't wait to get your hands on one of these new appliances, keep scrolling to find out where you can buy the Hotpoint BI WMHG 91484 UK (washing machine) and Hotpoint BI WDHG 961484 UK (washer dryer).
Hotpoint BIWMHG91484UKBI WMHG 91484 UK A+++ Rated 9kg 1400rpm Washing Machine | £419 at HughesOffering a generous capacity, this washing machine has various programmes such as Eco 40-60 programme and Delicate Wash for busy family life. It's also mega energy efficient and quiet (45dB) when in operation. Also available in 7 kg (BI WMHG 71484 UK) and 8 kg (BI WMHG 81484 UK) capacities.
Prefer the sound of the washer dryer? You can buy the Hotpoint BI WDHG 961484 UK from Hughes, too.
View Deal
Hotpoint BIWDHG961484UK Integrated 9Kg / 6Kg Washer Dryer with 1400 rpm | £519 at AOThis two-in-one appliance is brilliant for medium-sized households. As with the washing machine, it boasts an Anti Stain Quick Wash which mixes more detergent, higher temperatures, and special drum movements to remove stains in just one cycle. It also has an A rated energy rating so it's kind on the planet (and your wallet), too.
View Deal
Looking for more laundry and utility advice?