Buying Guide for the Best White Bath Towels
Why buy white bath towels?
White towels don't go out of style! Plus, they look clean and crisp and fit with various decor styles. Whether you're into modern, minimalist, or farmhouse interior design, white towels will match. They're simple, chic, comforting, classic, and timeless. White towels make a lovely accent to your colorful or patterned towels for contrast. Plus, they come in a wide variety of sizes and fabrics to suit your needs perfectly.
What should you consider in a set of white bath towels?
How do you keep white bath towels clean and white?
Bleach is commonly used as a wash additive when cleaning white towels. However, bleach can ruin the soft cotton fibers and may even damage the threads in the hems. If you use vinegar instead of bleach to brighten your towels and kill germs, they should last longer. Wash your towels in warm to hot water with gentle detergent, and dry them on high. Wool dryer balls are kinder to your towels than chemical-laden dryer sheets.
Our Picks for the Best White Bath Towels
Top Choice
This 100% pure cotton bath towel set is equipped to dry you off with comforting softness.
Amazon
$28.95$33.99Save 15%
Pros: These pure cotton towels come with two bath towels, two hand towels, and four washcloths. They're great for drying your hair and are a great value for the money. Plus, they get softer each time you wash them.
Cons: These towels shed a lot of lint in the first couple of washes. They're not as thick as some towels.
Bottom Line: If you're looking for a nice basic set of white towels, these are an excellent value and should serve you well. You can get them in other colors, too.
Softest Hand Towels
This six-pack of luxurious large hand towels is highly absorbent and made from all-natural materials.
Amazon
$19.99$20.99Save 5%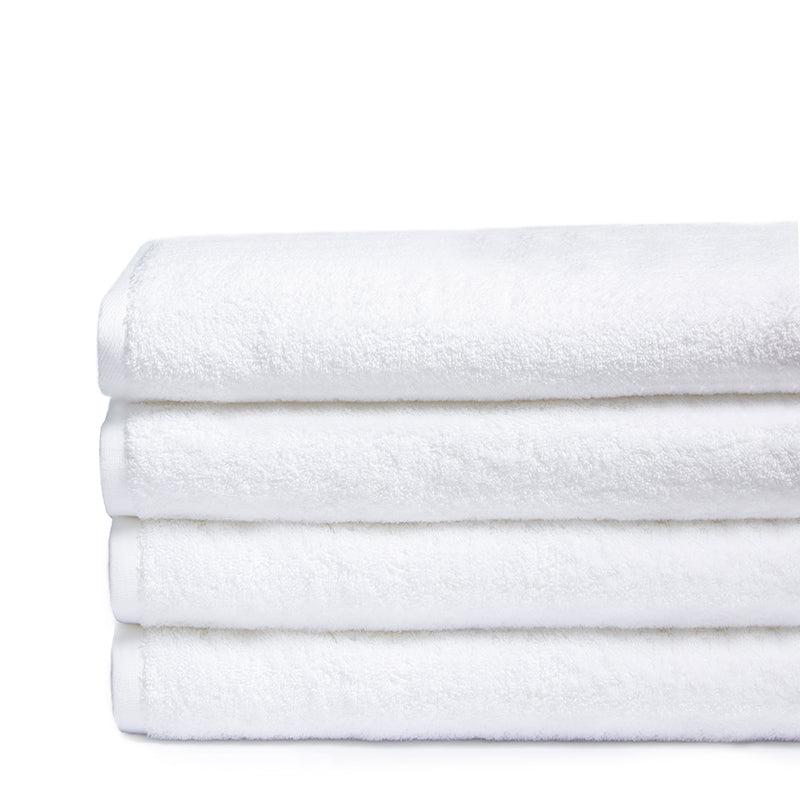 Pros: These towels are fantastic to take to the gym because they absorb sweat well and aren't too heavy. They're easy to machine wash and dry. Plus, you can purchase additional towels in a variety of sizes to match your set.
Cons: They're quite thin, so if you enjoy a thicker hand towel, these may not be for you.
Bottom Line: If you're looking for a set of hand towels that can work for several different functions, try these. They're exceptionally great for taking along for a workout, and they have a nice design on them that makes them look more luxurious.
Best Turkish Cotton Set
This set includes full-sized towels, hand towels, and washcloths made from lush Turkish cotton.
Amazon
$44.99
Pros: These high-quality Turkish cotton towels fluff up considerably after the first wash, but they're nice and lightweight. If you want to add a little bit of color to your white towels, these have stripes in different accent colors.
Cons: They're a little thin, even after they fluff up. They're also not as soft as some other brands.
Bottom Line: These white towels have a touch of decorative color to add a little more detail to your bathroom.
Best Textured Towels
These ultra-absorbent all-cotton bath towels are made with care to feel soft against your skin, even after many washes.
Amazon
$33.99$44.99Save 24%
Pros: If you want something a little more than the basic white towels, try these textured ones to add some visual interest. You can add on towels from the same collection if you want more than the two bath towels, two hand towels, and two washcloths. These don't shed much lint after the first wash, which is nice.
Cons: The towels are a little thin. The bath towels are not as long as others.
Bottom Line: If you're looking for beautifully textured towels made with eco-friendly manufacturing practices, these may be just what you're looking for.
Best Premium
These Turkish cotton towels are made with eco-friendly manufacturing practices and materials for the highest-quality comfort.
Amazon
$39.99
Pros: These quality white towels are an excellent value for the dollar. The white is super bright and clean-looking, not dingy or off-white. They also come in a few other attractive, soft colors. They're made with eco-friendly materials and feel thicker and fluffier than many other models.
Cons: These don't come in a set with hand towels and washcloths.
Bottom Line: If you're looking for attractive all-cotton towels with great absorbency, these are some premium bath towels. They're the same simple yet elegant style as luxury hotel towels. Plus, they get fluffier the more you wash them.
Final Thoughts
White towels are wonderful household staples to have on hand since they look crisp and clean and are timeless and versatile. These suggestions will make nice additions to your bathroom.