We've searched high and low and picked out the best highchairs for babies and toddlers, starting from just £12 and including some seriously snazzy designer options too.
As the name would suggest, highchairs are tall chairs that seat babies and toddlers at table height. Highchairs provide a safe place for babies and children to sit at the table, whether they're used for feeding, for sit-up play and drawing, or even just to sit with the rest of the family at meal times.
A Scandinavian design classic, Stokke's Tripp Trapp chair was created in 1972 after Norwegian designer Peter Opsvik struggled to find a chair that would allow his two-year-old son to sit at the family table after outgrowing his highchair. The design revolutionised the children's chair market and has become a favourite with parents who don't want to compromise on style.
Years later, the design is recognised as a design classic all around the world. It's a family favourite for good reason – these chairs last a lifetime, from birth into adulthood.
The design 'grows' with the child, with a newborn attachment, and adjustable seat and footplate positions. The ergonomic design is guaranteed to keep your child well supported and secure at every age, and means you don't need to buy additional seating as they grow.
What we like
The first thing you'll notice when your Stokke Tripp Trapp arrives is how slim and lightweight the package is. The triangular box doesn't look like it could possibly hold this highchair inside, but it does. As far as flat pack furniture goes, the Tripp Trapp is super easy to put together and every part slots together perfectly.
The newborn attachment is really great – it slots onto the top of the chair and is super safe and secure, with a red and green button that indicates whether it's attached properly. The chair is super easy to attach, as well as remove.
The Tripp Trapp chair is available in a wide variety of different colours, so it fits in with any design scheme. It's also super easy to wipe clean with a cloth and there's nowhere for food to get stuck.
What we don't like
Our only criticism is that Dt doesn't come with a tray table as it's designed to fit at the table. I've actually preferred it this way, but it does mean that the weaning stafe can be particularly messy. You'll want to seat it at an easy to wipe clean table, or put down a wipe-clean placemat.
Anything else?
These chairs last forever – I grew up with Stokke Tripp Trapp highchairs as a child and we still have them in the house now, and they still get use 30 years later. I bought one a few years ago when I had my first child, and the same chair is still being used for every mealtime now.
Image 1 of 10Image 1 of 10Image 2 of 10Image 3 of 10Image 4 of 10Image 5 of 10Image 6 of 10Image 7 of 10Image 8 of 10Image 9 of 10Image 10 of 10Size: H87xW56xD50cmMaterial: Beech, Birch, Plywood, Chrome and Plastic.Life span: From birth to 6 years (max 30kg)+Very stylish, eye-catching design+Grows with your child; from newborn into childhood+Design morphs from baby rocker to high chair to child's chair to rocking chair+Compact design, does not take up much space+Easy to clean+Tray is dishwasher safe+10 year warranty-Expensive-Very contemporary – won't suit traditional interior schemes
The very clever (and very stylish) iCandy MiChair is designed as a 4-in-1 chair to last from birth into childhood.
The MiChair can be used as a baby bouncer, high chair (with or without tray), a low chair for toddlers to use independently and even a rocking chair, so will last you well throughout your child's early years – it's no wonder the design won a red dot design award.
What we like
It arrives part-assembled already, in its little chair mode, and there's a booklet to tell you how to transform it into a high chair or other.
While it comes with a lot of options and configurations, once it's all set up the highchair is very compact and doesn't take up much space at all. It's also very quick and easy to switch between the different functions.
The simple design makes the chair super easy to clean, as there are no little corners for food to hide in, and the removable tray can be wiped down easily too (it's also dishwasher safe).
To use the chair for a newborn, you'll need to clip on the iCandy MiChair Pod (sold separately or as part of the MiChair Complete bundle). The Pod simply docks onto the MiChair (this is amazingly quick and simple to do, and feels very secure), bringing baby up from the ground to table height. Handy for when you'd quite like to have a meal yourself, without having to hold baby on your lap!
The MiChair also comes with an impressive 10 year warranty – about as long as you'll be using the product for.
What we don't like
While we personally love the contemporary design, it would look a bit out of place in a country style kitchen or more traditional home.
While we love the space-saving and compact design as it doesn't feel bulky or clunky, the tray table is on the small side too – so while it might suit older children who can eat neatly, it doesn't offer a lot of space for baby-led weaning. However, the tray table is easily removed if you prefer to use the dining table surface.
Anything else?
To transform the highchair into a cute mini rocking chair, you'll need to buy the rocking chair skis / feet separately.
Image 1 of 4Image 1 of 4Image 2 of 4Image 3 of 4Image 4 of 4Size: L:64 x W:45 x H:80cmMaterial: xLife span: From being able to sit up unaided until 10.3kg+Transforms from highchair to junior chair for longer use+Compact design allows you to seat baby right at the table rather than near it+Super easy to clean, and parts come off and are dishwasher safe+Adjustable height: easy to move up and down to sit at the table+The ZAAZ harness, tray, arm bar, seat cushion and footrest are all very easy to remove and re-attach, and chair is easy to transform into junior chair.-Static tray position can leave a gap between baby and tray, causing mess during weaning
With a removable tray, a toddler barrier, a 5-point harness that turns into a 3-point harness and a hidden lever behind the footrest that adjusts the height so it can be the perfect height for your dining table, there's a lot to love about the Nuna ZAAZ highchair.
The key highlights are that the parts are dishwasher safe, making clean-up a breeze, and the chair can transform into a junior chair with just a few simple clicks.
What we like
The ZAAZ highchair is refreshingly simple to put together, and assembles in just a few clicks.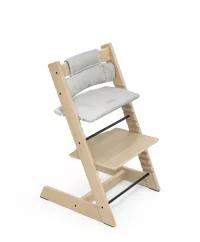 The highchair is more compact than most highchairs, so it's easier to slide right up to the table.
The ZAAZ harness, tray, arm bar, seat cushion and footrest are all very easy to remove and re-attach, plus this highchair is super easy to clean – the whole highchair is wipe-clean with no crevices or hiding areas, plus the parts come off and are all dishwasher safe.
What we don't like
One of the only drawbacks is that the tray is static and there's a bit of a gap between smaller babies and the tray (although it's perfect for older babies and toddlers) – this means that babies can get quite messy during the weaning phase.
It's a relatively heavy chair, and doesn't come with wheels.
Image 1 of 7Image 1 of 7Image 2 of 7Image 3 of 7Image 4 of 7Image 5 of 7Image 6 of 7Image 7 of 7Size: 40 x 60 x 80 cmMaterial: WoodLife span: From 6 months until 12 years old+Changes into a regular chair, lasting until they are 12 years old+Heigh of chair is easily adjusted+Comes with 3 seating modes: table mode, bumper bar mode and seat mode+Wipe-clean design+The chair feels light and is easy to move around-Similar price to other options, but with less functions and longevity
Known for their fun and modern wooden designs – including a wooden walker on wheels, a modern rocking horse design, a 2-in-1 desk and chair with built-in paper roll and an innovative baby nest that rocks – Mamatoyz is already making a name for itself when it comes to refreshingly simple yet playful design.
Mamatoyz Mama Wooden Highchair is their highchair design, which features a simple, Scandi-style wooden shape not too dissimilar to the Stokke Tripp Trapp but features a more curved design. The highchair also doubles as a normal seat for little ones once they no longer need a high chair, and can last until children are around 12 years old.
What we like
The chair comes with a tray for when they're little, but the tray can be very easily removed, and the chair slides right up to the dining table, encouraging older babies and toddlers to sit at the main table.
Plus, the natural wood material means that it can be wiped clean with no danger of discolouration of warping.
Weighing just 7k, the highchair is also surprisingly light and easy to move around.
What we don't like
We couldn't think of anything.
Image 1 of 6Image 1 of 6Image 2 of 6Image 3 of 6Image 4 of 6Image 5 of 6Image 6 of 6Size: 37.5 x 23 x 35.5cmMaterial: Plastic, foam seatLife span: From 6 months - 36 months+3-in-1 design means it can be used as a floor seat, strapped to an adult chair at mealtimes or as a booster seat+Ideal for small kitchens and small dining areas as it can be placed on an existing chair+Comes with a tray+Easy to clean+Super compact+Easy to store and put away+Less expensive than other options+You could invest in extras like suction toys that attach to the tray, turning it into a play gym for babies-Is only really designed for babies and toddlers, not children.
The Bumbo Multi Seat has a clever and practical 3-in-1 design: it can be used as a floor seat, strapped to an adult chair for feeding or as a booster seat when the pad is removed. It also features a removable tray, adjustable height, attachment straps and a removable seat pad.
Unlike Bumbo's Floor Seat, the Bumbo Multi Seat is for babies who can already sit up unaided - the leg openings are bigger, the backrest is straighter and the seat doesn't have as much of a sink or slope, allowing more room for growth and toddlers to get into and out of the seat.
What we like
The Bumbo Multi Seat is ideal for small kitchens and small dining areas as it can be placed on an existing chair and doesn't' take up any additional floor space.
It's very easy to attach to an existing chair, and feels secure. There are rubber bits on the bottom that stop it slipping, and there are straps to keep it in place.
As it's so compact, it's also suitable for travel – ideal for weekends away, road trips, visiting friends or even just going out for meals.
What we don't like
It's one of the less expensive options, but you get what you pay for: this seat is space-saving and practical but only lasts until they are around 36 months old.
Image 1 of 7Image 1 of 7Image 2 of 7Image 3 of 7Image 4 of 7Image 5 of 7Image 6 of 7Image 7 of 7Size: 56 cm x 62 cm x 90 cmMaterial: Plastic and steelLife span: From 6 month until they weigh 15 kilo+Amazing value+Easy to clean+Sturdy and safe+Does the job+Did we mention the amazing value?-It's a no frills option
IKEA's classic Antilop highchair offers amazing and unbeatable value at just £12. That's twelve pounds. Sure, it doesn't come on wheels, it doesn't morph or transform into anything else, and it's not trying to be particularly stylish, but it does the job: it's sturdy, reliable and wipe-clean.
What we like
It's cheap as chips – literally. We've had chips that are more expensive than this piece of furniture.
Considering it's super cheap price, it's actually very sturdy and robust, as the legs point slightly outwards making it extra secure. It's also very easy to put together and take apart, and if you need more than one they stack on top of each other. There's a safety belt that keeps babies in place, plus the plastic seat and tray are an absolute doddle to clean. The tray also features raised edges which help contain spills.
It's an ideal option for keeping at grandma's house (disassembled, in the shed) or for keeping at a holiday home. You could even order it online and have it delivered to your holiday destination.
What we don't like
There's not much we can fault it for considering it only costs £12. It's made of plastic, there's no cushioning, it isn't particularly space-saving or stylish or snazzy, you can't change the height and it doesn't have a footrest etc – but it does the job and you can't ask for more than that for £12.
While it may not fold flat for breezy daily storage, it's easy enough to take apart, should you want to stash it out of the way occasionally.
How to choose the best highchair
From what age do you need a highchair?
Highchairs are usually recommended from when the baby starts weaning (being introduced to purees, smoothies, mash etc), often this is between 4 months and 6 months old.
However, we're increasingly seeing a new generation of modern highchair designs that come with extra padded inserts, newborn attachments and recline functions to make them suitable from birth – particularly useful if you have pets or other children and want to keep your baby off the ground.
Highchairs are only needed until around 36 months, when children are usually able to sit at the table on a booster seat or regular dining chair.