Dear Ms. Builder:
I try to keep the bathroom as clean as possible, but the caulk around the bathtub and shower stall is black. Can you tell me how to clean the caulk or how to replace it if that is necessary? - Diane H.
Advertisement
Dear Diane:
No matter how clean you keep your bathroom and the bathtub, it will never look really clean if the caulk is discolored or black. There probably is no way to completely clean it and make it white or clear again once it has become discolored.
AdvertisementAdvertisement
It won't hurt to try cleaning it first though. You may be lucky and get it light enough that it looks acceptable, but don't get your hopes up. The dark color is a combination of dirt and mildew. Try some standard bathtub cleaners on it. Also use a solution of bleach. This will kill the mildew and may bleach it somewhat.
[Most read] Pair connected to Annapolis woman's disappearance brought to Maryland, indicted on murder charges »
If you still are not satisfied with its appearance, your only other option is to replace it with new caulk. This is not a difficult do-it-yourself job, and it should require only one tube of caulk at a cost of about only five dollars.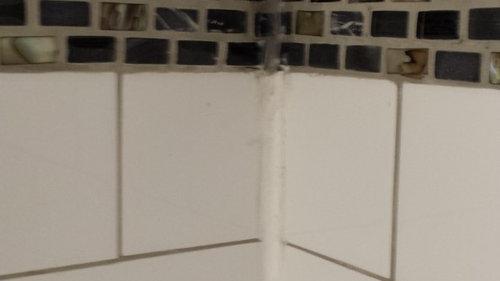 First try to determine the type of existing caulk, because this will determine how much removal is required. Caulk along the top of the tub along the wall serves two purposes. It creates a seal to keep water from getting under the wall tile. It also creates an attractive joint.
If the old caulk is dry and brittle, it is likely a latex caulk. This type of caulk will have to be completely removed because it will be cracked and not provide a good water seal. This is an inexpensive type of caulk and was commonly used by builders years ago. Saturating this type of caulk with 90-percent isopropyl alcohol will make it easier to remove.
If the caulk seems rubbery, it is likely a silicone caulk. This caulk has a very long life. Even though it is discolored by mildew, it is probably still providing a good water seal. In this case, you only have to remove a top skin or perhaps none at all. Just a new thin layer of white silicone caulk may do the trick.
For a few dollars, you can purchase special plastic caulk remover tools at your home center store. These are designed specifically for bathtubs since this caulk is replaced often, but they'll also work for kitchens and around windows. They're most effective on crumbly old latex caulk. Removing silicone caulk with one may take some elbow grease.
[Most read] Sunday Jumble »
Make sure to use kitchen and bathroom caulk. These are formulated with mildew-resistant chemicals which are quite effective. They do not reduce its life. The following companies make these caulks: DAP, Elmer's Products, Geocel and Red Devil.
Here are some tips to reduce mildew growth in the future. When you are done bathing, rinse off the walls and caulk with water to minimize soap residues. Open the shower door or curtain after bathing to dry it faster. Run the bathroom vent fan for several minutes. Once a week, wipe the caulk with a mild solution of bleach to retard the initial growth of the mildew.
Tools and materials required: scraper, utility knife, caulking gun, bucket rags, caulk.
AdvertisementAdvertisement Advertisement AdvertisementAdvertisementAdvertisement
Most Read
Pair connected to Annapolis woman's disappearance brought to Maryland, indicted on murder chargesMar 18, 2022
Sunday JumbleFeb 1, 2018
First Black chair of Annapolis Environmental Commission pushing for more equity, justice in environmental field3h