I don't know about y'all but for the past year and a half, I've been dreaming about all the places I plan on traveling now that outside is semi open. This pandemic has taught us a lot...and one lesson is YOLO! Do things. Go the places. Make the memories. And capture every moment.
So, as I've been compiling my list of must-stay-at hotels, my saved folder on IG is filled with pics of dope bathtubs. You know, the kind where you will literally plan an entire trip around just to get that amazing shot of yourself soaking, holding a glass of wine and looking completely unbothered? Well, I will definitely travel for a tub and if you're anything like me then you need to bookmark this post ASAP.
Check out the list below for some of the most mind-blowing bathtubs in the world and start planning your trip right TF now. Happy soaking!
Courtesy Image
It doesn't get fancier than the Fleming villa at the GoldenEye resort in Oracabessa Bay, Jamaica, where Ian Fleming wrote all his James Bond books. Unless, ofc, you write the next novel turned blockbuster in said villa's outdoor claw-foot tub.
BOOK NOW
---
courtesy Image
The gigantic granite tub in the Riverhouse suite at 1 Hotel Brooklyn Bridge in NYC has topped many a Best Baths list and will cost you a small fortune (~$6,000 a night) to use. But those views of Manhattan…and hey, YOLO.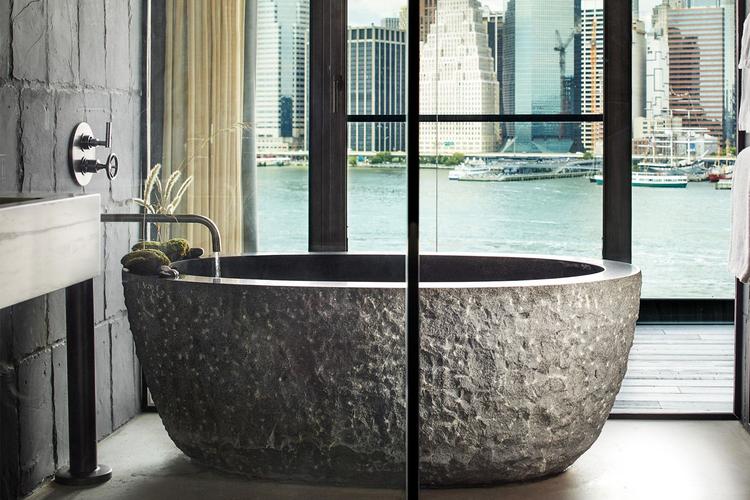 BOOK NOW
---
courtesy Image
Maybe the coolest thing about the super-sexy travertine tub at the Conservatorium Hotel in Amsterdam—in the I Love Amsterdam suite, obvi—is that it's literally carved into the floor.
BOOK NOW
---
courtesy Image
Fun fact: Every single room at the Silo Hotel in Cape Town has a stand-alone soaking tub with stunning views of the city or harbor. See y'all in South Africa!
BOOK NOW
---
courtesy Image
The gloriousness you're looking at right now lives at the Vik Chile in Millahue, Chile. May I suggest sipping wine (from the hotel's vineyard) while lounging in the Vik suite's hammock-shaped wonder?
BOOK NOW
---
Courtesy Image
Make your Little Mermaid dreams come true in either the Poseidon or the Neptune suites at The Atlantis resort in Dubai.While you longe in the marble bathtub you might be greeted by a slew of sea animals—like sharks, exotic fish, sting rays and other aquatic wonders.
BOOK NOW
---
courtesy Image
I'm pretty obsessed with this copper clawfoot tub in the Alpine Bathing Suite at the Urban Cowboy Resort, and for good reason—it is big enough for two, looks out to the Catskill mountains, and is right next to a cozy fireplace. No need to leave this room for your entire stay!
BOOK NOW
---
courtesy Image
There are a many ways to enjoy the Darling Harbour in Sydney, but soaking in one of the Sofitel's luxury corner suites' tubs gets our vote. After day of shopping and taking in the sights, it's only right that you get to relax. Amiright?
BOOK NOW