I have discovered, the hard way, just how important a decision it is to choose the best showerhead for your bathroom.
Several years ago, we hired a contractor to transform a barely insulated powder room into a full bathroom with a stall shower. We'd hoped this would eliminate those early morning battles where each of us raced through the hallway, towels in hand, to get first dibs. Even if you were second or third in line, your shower was marred by family members pounding on the door, barking, "Hurry up! Are you done yet?"
In my haste to get our contractor all the supplies required for the job, I selected a nonadjustable showerhead that emits a blast of water so powerful, if I opened the bathroom window, it could probably wash my neighbor's car.
Turning this innocent-looking but insanely intense showerhead on inside our small shower was the equivalent of opening a fire hydrant inside a coat closet. Because the panels of the shower didn't reach the ceiling, water sprayed all over the room and, within seconds, the walls and floor would be soaked.
As a result, we've stopped using this much-needed extra shower as we hunt for a new showerhead. We hope to replace it with a handheld model or one that has different settings, allowing us to adjust the intensity—and keep the water where it's meant to be, inside the stall.
So which showerhead should we pick?
Wesley Ward, vice president of marketing and merchandising at Hausera, an online kitchen and bath specialty retailer, agrees that choosing a showerhead may seem like a small detail, but it's one that will have a big impact on how you experience your bathroom each day.
"Your shower, much like the rest of your bathroom, is both where you prepare for the day and unwind from it," says Ward. "Your shower experience should be therapeutic, and having the perfect showerhead can make that experience so much more serene. It's much more important than you think."
___
Watch: Get Rid of That Mildew Odor in Your Bathroom—for Good
___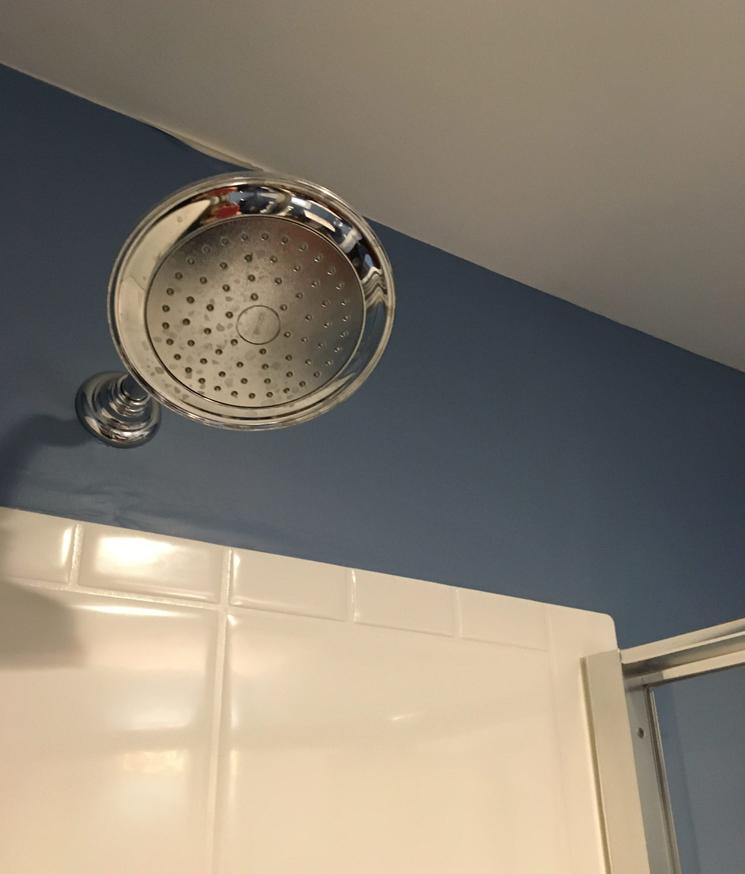 How to replace a showerhead
If you're ready to replace your showerhead, the good news is it's a relatively easy makeover that can be performed in less than an hour. Most showerheads are universal in that they will attach to your standard shower plumbing pipes. Your existing showerhead should screw right off, but if it doesn't, you may need to spray a bit of lubricant such as WD-40 or B'laster into the threads to loosen them. If they're dirty, clean the threads before screwing on your new showerhead.
Also keep in mind that, based on government standards, no showerhead can have a water flow rate greater than 2.5 gallons per minute at a standardized pressure of 80 pounds per square inch. Low-flow showerheads use even less than that, which means lower energy bills and water conservation.
Because not every home has water pressure as high as 80 psi, lower levels will affect how powerful your showerhead is. If you know that your pressure tends to be on the low side, look for a fixture that's designed specifically for homes with low water pressure.
What's the best showerhead for your bathroom?
Wondering which showerhead is right for you? Take a look at the various types of showerheads below.
Rain showerhead
Claim your home to stay up-to-date of your home's value and equity.
"Rain showerheads are the ideal way to emulate a spa bathroom at home," explains Sammy Hejazi, general manager of Wayfair Professional's Contractor division. "A wider showerhead surface will increase the rainlike experience. The good news is that this type of luxury experience need not be wasteful. Plenty of rain showerheads come with low-flow options that make them more environmentally friendly."
This Trimscape showerhead (wayfair.com, $156) mimics a relaxing rainfall, and at 10 inches, it's large enough to soak the whole body. Reviewers note that it's so attractive, it quickly becomes the focal point of the bathroom.
Low-flow showerhead
While toilets still represent the largest water user in the house, at 24%, showers aren't far behind, at 19%, according to the Alliance for Water Efficiency. Of course, you can shorten the duration of your shower, but if you're not ready to give up that luxury, you can opt for a low-flow showerhead. The Environmental Protection Agency's WaterSense program deems water-efficient showerheads at a lower flow rate of 2.0 gallons per minute.
This Envi Eco-Performance showerhead (wayfair.com, $77) is a WaterSense-certified product that uses at least 20% less water than the current federal standard.
"Low-flow showerheads are a great way to use less water every day, reducing environmental impact while also saving money," says Hejazi. "Many showerheads now come with a low-flow feature that can be adjusted or kept on permanently."
Dual showerheads
Though it looks fancy, this two-in-one handheld showerhead (wayfair.com, $225) is easily installed on a standard shower arm without altering the plumbing behind the wall. It also features a pause setting, offering you plenty of time to lather up without worrying about overspray or water waste.
"The dual showerhead is when there is a main, stationary showerhead located in the usual position, and then a secondary showerhead installed next to it. The secondary showerhead is typically mobile, allowing you to have a better range of water flow," says Ward.
"The dual-spray showerhead is ideal for anyone who cares for those with mixed abilities, children, or even pets. The dual spray allows those who use the shower in the standard way to enjoy their usual experience, while those who need to either sit in the tub or be assisted—such as an elderly person or a child—to have accessibility as well."
Best budget-friendly showerhead
"The single-spray showerhead is the standard model that you see in most bathrooms," says Ward. "This allows for a comfortable range of water flow without any additional features or enhancements. The single-spray showerhead is the most affordable kind of showerhead, and its trendiness won't fade quickly, meaning that you can guarantee it will look great in your bathroom for many years to come."
This high-pressure showerhead (amazon.com, $16) is a budget bather's dream come true. Though you're getting away cheap, there's no sacrificing style with this showerhead. Compact yet powerful, it features silicon jets to prevent lime and hard-water deposits.