A concerned mother is warning other families not to install tempered glass screens in bathrooms after one apparently shattered without warning, showering bits of glass onto her daughters. One of the girls was even cut up pretty badly, requiring multiple stitches on her shoulder, back, and hand.
Distressed by the incident that took place last Sunday afternoon, Facebook user Tan JS posted a lengthy recount of her experience dealing with her daughter's hospitalization and the alleged apathy she faced when speaking to her condo's management and developer.
While her daughters were taking a shower, Tan and her husband heard a crash before hearing screams. According to her daughter Ariel, she had been opening the tempered glass door when it suddenly shattered without warning. The young girl immediately hugged her sister and shielded her from the falling glass bits.
The parents found them dripping in blood — there was even a "big hole" on Ariel's shoulder, Tan noted. First aid was administered and the ambulance was called. The bleeding was heavy enough to soak through the gauzes and the towels used to cover up the girl.
When Ariel arrived at KK Women's and Children's Hospital, eight doctors were said to have attended to the girl. Fortunately, none of her tendons were sliced up and she received a number of stitches. According to Tan, Ariel is currently resting at home, while her other daughter is already back in school, suffering only minor cuts on her feet.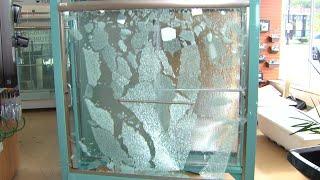 Exploding bathroom glass doors are actually pretty common everywhere, thanks to the nature of its material. At times, it could even spontaneously shatter into pieces without much provocation at all.
Shower doors are typically made of tempered glass, which is much safer than the standard plate glass. The glass is specially treated in a way that causes it to crumble into small, granular pieces instead of large shard that could really cut someone up — especially someone who's naked and bare in the shower (unless you're a Never Nude, of course).
A similar incident actually took place in 2014, when two girls and a domestic helper were injured by a shower glass panel that exploded without warning. According to the glass supplier, spontaneous breakage could occur due to internal defects or impurities in the glass, minor damage during installation, or even the temperature of water from the shower.
Not wanting others to go through the same experience as her, Tan strongly encouraged others against installing glass panels in the shower or at least install a protective film on it for protection from spontaneous breakage.
She also didn't want to name and shame her condo's managers and developers, both of whom apparently told her that the warranty period was up and there was nothing they could do about it. The Building and Construction Authority (BCA) was contacted, but they too could do nothing as the governing body is only in charge of structural maintenance.
"We just don't want anyone to go through what we went through and what Ariel is going through now," Tan wrote.
"We have definitely learnt from this episode and is sharing this to raise awareness about the danger of tempered glass shower screen."