Shower doors have become a new fixture in bathrooms. Gone are the days of curtains; instead, homeowners are getting classy glass shower doors to add a more modern and unique look to their bathrooms. The best thing about shower doors is that they have a wide variety of style and configuration.
However, broadly, it can be classified intoframed shower doors and frameless shower doors. In both cases, there are various pros and cons that you should consider before installing in your house. Before you get into the details, you can have a look of some latest framed and frame-less shower doors here. Let's discuss the differences of each type in details.
In both cases, the components of the glass shower doors are made of tempered glass. Tempered glass is regular glass heated to a high temperature and it is easier to clean. The glass in case of framed doors is a bit thinner. This is because the frame can support the door, so there isn't a heavy pressure on the glass.
Aluminum frames, powder-coated with a plethora of color and finishes are the most common types of frames used these days You can choose whether you want the frame to be smooth or textured. The glass is sealed firmly to the frame so that there is no chance of leaks from the cracks.
As frameless shower doors lack the same support from the frame, the glass pane tends to be thicker. Hinges, clips, etc. are attached and installed to the glass, and the edges and corners are coated with thick silicone to seal the glass permanently.
There is a wide range of options when it comes to framed and frameless shower doors. Frosted, patterned, etched, bronzed, all of these options are viable for the glass in both types. If one had to pick an obvious style difference, it lies mainly in the configuration.
The options for framed shower doors are somewhat limited. When people use framed shower doors, they usually opt for sliding doors. In fact, a sliding door is only applicable to framed doors. You can also have a framed door with a heavier top frame and a door that pivots within the vicinity of the frame. However, this type of framed doors has become less common as bathroom enclosures have become larger.
For a frameless door, you can opt for French style doors. Here, you have to open two doors, which are side by side, and it opens in the outward direction. There are also other moving and stationary panel options. One popular door type is where the panel is fixed to the wall, and you have to hinge the door to the panel.
This style will require more glass, but you need to have it if you want the seal to be tight. There are custom looks like knee walls and three-wall enclosures of glass which gives a more minimalistic feel to the bathroom.
No matter which type of configuration you choose, you will have an unobstructed view of the shower behind. However, the heavy metal frames tend to give off a more traditional vibe, while frameless doors are a bit more contemporary.
It is advised that you hire professionals to install glass shower enclosure rather than doing it yourself, regardless of whether it is framed or frameless. You can buy directly or choose custom made ones.
This detail depends on the height of your bathroom ceiling, the size and shape of your bathroom and the type of glass you settle on. For this reason, a template from thin pieces of wood is used to take measurements of the shower. These pieces act as a guide while constructing your door.
Compared to framed doors, installation of frameless doors demands a huge amount of concentration. The clips and hinges, need to be fit perfectly on each level so that the door doesn't sag.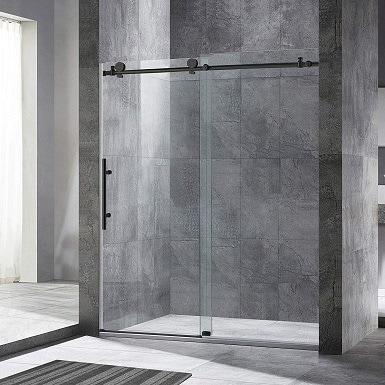 If there are tiles in the shower, then the professionals will have to arrange for drill bits to keep the clips properly attached. Silicone caulk is used to seal the areas where the glass and the walls are connected to avoid leaks.
Thin glass and the overall weight of the doors makes framed doors easier to install. The presence of the frame makes installation easier, as the hinges and clips are attached to the frame instead of on the glass. However, caulk is still a must to make sure the frame and the glass are secure.
To give a better idea, a frameless door might take 4 to 5 hours for installation while a framed door will take 2 to 3 hours. If templating is done prior, then there needs to be a 2 to 3 weeks gap before one can proceed with the actual installation.
Various factors determine the cost of a glass door. Is it custom or ordered? What about the glass type? What about the configuration? All of these factors are taken into consideration while deciding on a price. As such, it is hard to compare the cost. However, custom made designs always cost more than an order for both framed and frameless doors.
Regardless of whether it is a frameless or framed shower door, the seal can loosen up over time. However, this rarely happens, and reputable glass door manufacturers go the extra mile to prevent this from happening. As framed doors have a heavy frame and a layer of caulk, water leakage is even more unlikely.
Rubber gaskets and silicone caulk are used to prevent water leakage in a frameless shower door. While the rubber gasket might break a little over the years, you can easily replace it. A thick bead of caulk at the edges is used for panels where the door is hinged in between.
Further, mitered edges do not let the water slip out. The more preventive measures you take, the more will be the cost of installation.
Framed shower doors usually have a track at both the bottom and top of the door.These tracks are a popular place for water to gather, which can eventually result in corrosion. Mold and mildew might also form over time, making it harder to clean.
Framed glasses are also not usually treated to prevent water spots. We recommend squeezing after each shower to maintain the glass.
Frameless doors do not collect water the way framed doors do. This certainly makes it easier to clean.
Both framed and frameless shower doors can shatter. While extremely rare, it does occur, and the reports state that it might occur when the doors aren't even in use. Fortunately, due to the tempered glass, when it does shatter, it breaks into tiny pieces. The lack of shards means anyone in the immediate vicinity isn't likely to get cut.
Breakage could occur due to various reasons. It can be long term use or a clip coming off. However, the reports of such situations are quite rare, and there are not many risks one can associate with shower doors.
As framed shower doors have frames made of aluminum, they may corrode with time and even collect mineral deposits. Powder coating can delay this process for a bit.
The frameless doors don't have the same problem due to the lack of metal. Overall, both doors have a lifespan of 20 to 30 years.
Fab Glass and Mirrors have various type of frameless and framed shower doors. You can customize the glass type, thickness and finish as you want. The company also sends qualified professionals to install the door. If you want more details, you can consult a professional glass shower door manufacturer on the site who is available at all times.